School Information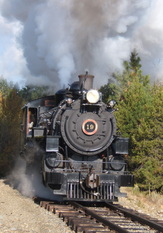 A visit to the Sumpter Valley Railroad is a must when your class visits historic Baker County. Consider including a train trip and tour of the Sumpter Valley Railroad on your itinerary for your visit this coming spring. Along with the gold dredge and railroad, you may wish to include a tour of the
Baker Heritage Museum
in Baker City and the
Oregon Trail Interpretive Center
(just 5 miles east of Baker City).
We provide a basic explanation of the steam powered locomotive, how the steam is created, and how it is converted to motion. Our conductors explain the importance of the railroad to the development of Eastern Oregon and Baker County. Coupled with a visit to the
Sumpter Valley Dredge State Heritage Area
at Sumpter, your students will come away from this visit with a new appreciation of the people and machines that built this country.
Make arrangements now for your class field trips and experience the rich history of railroading from the past to the present. To book your train trip please contact us, via E-mail
info@sumptervalleyrailroad.org
with "School Information" in the subject line. As the railroad and gold dredge are not operated by the same entity, to arrange a tour of the Sumpter gold dredge, please contact the
Sumpter Valley Dredge State Heritage Area
at 541-894-2486.
For more information, write to:
SVRR School Trains
P.O. Box 389
Baker City, OR 97814
---
School Special Fares
There are charter rates available for large school groups and for those that would like to charter the entire train for the day, please contact us for more information at info@sumptervalleyrailroad.org.
We are steamed up each day there is a scheduled trip. Please book your visit in advance as our crews are all volunteers and have taken time off from their jobs to be there for you. Scheduling your visit will assure that your class has a safe and fun time at the railroad. The train does not operate without a full crew and unscheduled visits may not be accommodated. Please make arrangements as far in advance as you can.
Please note that pricing and scheduling is subject to change without notice. Scheduling your group early will lock in the current fares and schedule. Payments are required in advance for the upcoming season unless payment on arrival has been approved. Payments can not be refunded after one week prior to departure date (arrangements will be made for trips scheduled for next year's season). Confirmation of your trip will be made when payment is received.
If the timing just isn't right for your school this year, please consider a trip next year. For your convenience you can book ahead for next season. This will help to assure you the best day and time to visit and allow more activities from your students.
We ask that your group arrive half an hour early to pick up tickets, use the rest rooms, receive safety instructions, and time permitting an opportunity to get close and personal with a steam locomotive. Also it is advisable to bring coats. The spring weather is unpredictable in the Sumpter Valley and can change dramatically in a very short time span. Please note that there are no restroom facilities on the train.
We make every effort to maintain our scheduled departure times. There may be other groups scheduled at the same time as your group or waiting at the other end of the line. We may have scheduled trips from both McEwen and Sumpter. We ask that your group be prepared to board the train ten minutes prior to your scheduled departure time.
We suggest that there be one chaperon/teacher to every ten students. Our train crew is there to operate the train and answer your questions. Safety is first for our passengers, crew, and equipment. That is why we ask that at least one chaperon/teacher from your group ride in each car that your students are on with the exception of those in the caboose (a special privilege when available).
The caboose cupola may be available to ride in if there are enough crew on duty when the caboose in the train. Ask the conductor or rear brakeman for availability. Please select the student riding the caboose before you arrive. If your group is the only one scheduled that trip as many as four may ride in the caboose cupola. If more groups are scheduled the same trip, we may only have room for one or two from your group. We will make every effort to get at least one of your group into the cupola (historically this is where train crew sometimes rode). This car is the only one that does not require one of your chaperons to be present, unless other students in your group will be riding in the lower seats.