Membership and Volunteering



There are projects and positions for any skill level or interest. Volunteers can learn everything from the techniques required to repair historic railcars to how to safely operate a 113-ton steam locomotive! The Sumpter Valley Railroad is a fun and interesting place to volunteer, and whether you love trains, history, preservation, or just enjoy helping out and making a difference, we're ready to welcome you aboard! All ages are welcome to sign up, though you must be 18 or older to work on the trains or operate equipment.

---
To sign-up the first time for a membership please contact us via email at
bookkeeper@sumptervalleyrailroad.org
and provide the following information...
Your name, first and last.
Your current email address.
Your current mailing address so we can send you your membership card, plus the newsletter if you prefer a paper version.
Your age.
Whether you prefer paper copy of the newsletter or if an email version is preferred, an emailed version does save on printing and mailing costs.
Whether you would like to be put on the mailing list for crew and active volunteers.
Any questions you might have that we would be able to answer.
​Safety Weekend on

May 6 and 7, 2018
is a great introduction to becoming an active volunteer at the Sumpter Valley Railroad. Attendees learn about safe operations, rules and regulations, train handling, crew positions, maintenance, equipment and facilities, railway history, and get a friendly meet and greet with your fellow volunteers.
You do not need to be a current member, and all ages are welcome to attend, though you must be 18 or older to work on the trains or operate equipment. Lunch will be provided both days, with training getting underway at ​8
:00 AM
at McEwen. There will also be work events on Friday May 5. For more information, please contact us via email at
info@sumptervalleyrailroad.org
---
More Information and Regular Dues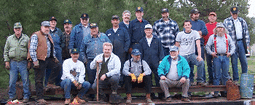 T
he Sumpter Valley Railroad Restoration, Inc. is comprised almost entirely of volunteers. These volunteers have given their valuable time to rebuild and support the railroad. They bring their unique skills and knowledge with them to assist in the preservation and interpretation of not only the historic artifacts, but of the our national railroad heritage. Incorporated by a handful of dedicated locals on January 4, 1971, the membership has since grown to be over 400 members strong. Our members come from all over the United States and Canada, and there are also members and supporters around the world. Since incorporation, the backbone of the Sumpter Valley Railroad has been its membership and volunteers.
If you are interested in becoming a member we invite you to visit the railroad, meet our crews and staff members, and learn more about the operation. After becoming a member you may choose to join the volunteer operations of the railroad. Currently, there are about 90 active members volunteering on a wide variety of projects. You may choose to use your skills on projects such as restoration of equipment, track work, train operations, general maintenance, landscaping, or facilities work. There is also a need for depot agent assistants, tour and information guides, administrative or clerical workers, and much more. Because over sixty-percent of our operating crew live more than 100 miles away from the railroad, many members bring their families with them and spend entire weekends on site. Members may camp out on the railroad property in tents or self contained trailers or enjoy the hotels and accommodations in nearby Sumpter or Baker City. The Sumpter Valley Railroad strives to be a family friendly and oriented business. There are several married couples who volunteer, and many parent/child teams as well within the membership.
The Sumpter Valley Railroad Restoration, Inc. is an Oregon Non-Profit 501(c)(3) Corporation. All donations are tax deductible, and you can even deduct your dues minus the free ticket value. Members receive official membership cards, a subscription to the "
Stump Dodger
" newsletter, a free pass once a year, and a ten percent discount in the gift shop when actively volunteering.
Membership fees are as follows...
JUNIOR (Non-voting age 17 and under) $20.00
GENERAL $35.00
SUSTAINING (Builds towards a Life Membership) $50.00
LIFE MEMBER $2,000.00
If mailing your membership dues, please send them to the following mailing address...
Sumpter Valley Railroad
P.O. Box 389
Baker City, OR 97814
Contact us via E-Mail at
info@sumptervalleyrailroad.org
.
---