Mainline Trail Project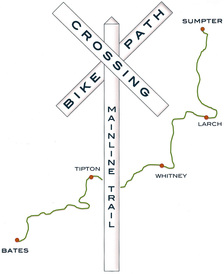 Recently there has been quite a bit of discussion over the idea of converting the former Sumpter Valley Railway mainline from the Bates State Park to the town of Sumpter into a hiking and biking trail. The Mainline Trail would run close to forty miles and there is even talk of expanding the concept to include sections of the Baker White Pine and Oregon Lumber Company grades to create an interconnected network of trails. The vast majority of the mainline between Bates and Sumpter is intact, some areas remarkably so, and is largely on National Forest land. Initial inspection was extremely positive with many areas requiring only a small bit of tree thinning and surface grooming to be ready for foot traffic and bikes. The current plans do not call for the design of the trail to accommodate motorized vehicles on any sections that are not already in use as a road or ATV trail. By limiting access to lower impact use, it should be possible to preserve sections of the line that still have many of the original railroad ties and other pieces of infrastructure. Plans also call for the reinstallation of mile markers, signboards, and eventually information kiosks at points of interest that will be modeled after line side structures from the original railway.

Baker County Parks and Recreation, Baker Loves Bikes, and the Baker County Chamber of Commerce have already shown positive support for the project and meetings are scheduled with the Wallowa-Whitman and Malheur National Forest managers.

While many of us would prefer to travel the route behind a steam locomotive, the Mainline Trail may be the best adaptive reuse of the original grade to promote long-term preservation as well as increasing awareness of what a spectacular railway the Sumpter Valley truly was.



---